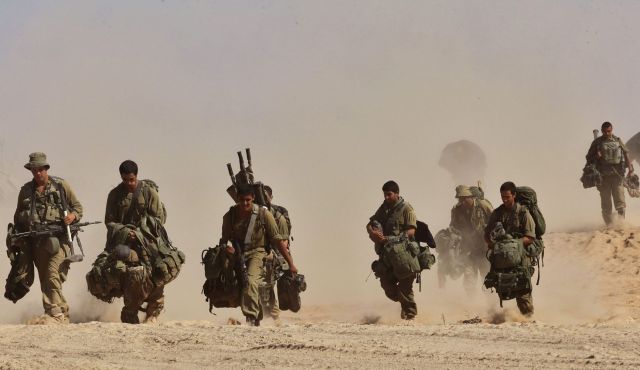 January 20, 2015
Highest award goes to officer who led a unit into a tunnel to search for 1st Lt. Hadar Goldin, who had been snatched by Palestinian fighters.
c/o Haaretz.com
IDF Chief of Staff Lt. Gen. Benny Gantz approved the awarding of decorations and citations to 53 soldiers and officers who fought in Operation Protective Edge in Gaza last summer.
First Lt. Eitan Fund, of the Givati Brigade's reconnaissance battalion, will receive a medal of distinguished service, the highest award to be given, for leading a force of four fighters into a tunnel to search for 1st Lt. Hadar Goldin, who had been snatched by Palestinian fighters.
"First Lt. Fund went into the terror tunnel equipped only with a pistol and with no other protective gear. With this act he obtained evidence that assisted in establishing 1st Lt. Goldin's death," read the letter explaining the reason for his medal. The two officers and soldier who were with him and also entered the tunnel — 1st Lt. Shaked Kedar, 2nd Lt. Matan Horesh and Staff Sgt. Chalachew Mekonen — will receive citations of merit from the GOC Southern Command. 1st Lt. Shlomo Kadosh, who was with another force that entered the tunnel, will get a citation of merit from the division commander. Capt. Aviran Alfasi and Sgt. Yehiel Dan will get citations of merit from the Givati Brigade commander.
An Israel Defense Forces announcement said Gantz also approved citations of merit and medals of appreciation to nine military units.
The awards were based on recommendations by a committee headed by Brig. Gen. (res.) Harel Knafo, which examined the stories describing exceptional actions by soldiers and officers. The recommendations were approved by GOC Southern Command Maj. Gen. Sami Turgemam, by the General Staff Committee on Citations and Decorations, headed by Maj. Gen. Shai Yaniv, and by Gantz. The awards ceremony will be held next month at the Palmahim air base.
Four chief of staff citations of merit will be awarded. One recipient is Sgt. Major (res.) Omri from the undercover Duvdevan unit, who was wounded by a fragmentation grenade when he rushed to defend another soldier. Omri was photographed being evacuated to the hospital with an Israeli flag covering his face, a photo that quickly became a symbol of the operation.
Nineteen major-general citations of merit will be awarded including to Lt. Col. Dolev Keidar, who survived the firing of two antitank missiles at his Jeep and was killed in a firefight with terrorists. He was cited for preventing a serious terror attack on area residents. Warrant Officer Danny Beinsain, a tracker in the northern brigade of the Gaza Division, who together with Staff Sgt. (res.) Nadav Goldmacher, who volunteered for the mission, drove the vehicle "straight at the enemy and into live fire," and was also killed, will be posthumous awarded citations from the brigade commander.
Eleven soldiers will be getting citations from the Gaza Division commander. Among them is Maj. Efraim Tehila, who already has a citation of merit for his performance during Operation Cast Lead. Tehila, a company commander in the Egoz unit, received this new citation for his actions during an encounter that killed two soldiers and wounded the Egoz commander. "During this battle, Maj. Efraim assumed command of the incident until its conclusion," the letter read.